Have SAFETYWEDGETM , eliminating the risk of pulmonary artery rupture
Mainly used to measure the pressure of pulmonary artery, pulmonary capillary, cardiac output and etc.
Including catheter and accessories, the accessories include introducer, guide steel wire, puncture needle, syringe, scalpel, suture wing (optional Safetywedge) etc.
Better Protection from ventricular irritation and arrhythmias.

Minimizes trauma to vessel wall.

Resistance to kinking, knotting and looping.

Minimum resistance to fluid flow.

Reduced potential risk of thrombus formation.

Easy catheter lumen identification.

Easier bubble detection at connection hub.

Avoid catheter body contamination and flexibility of choices of introducer.
Pulmonary Artery Monitoring Catheter and Biotray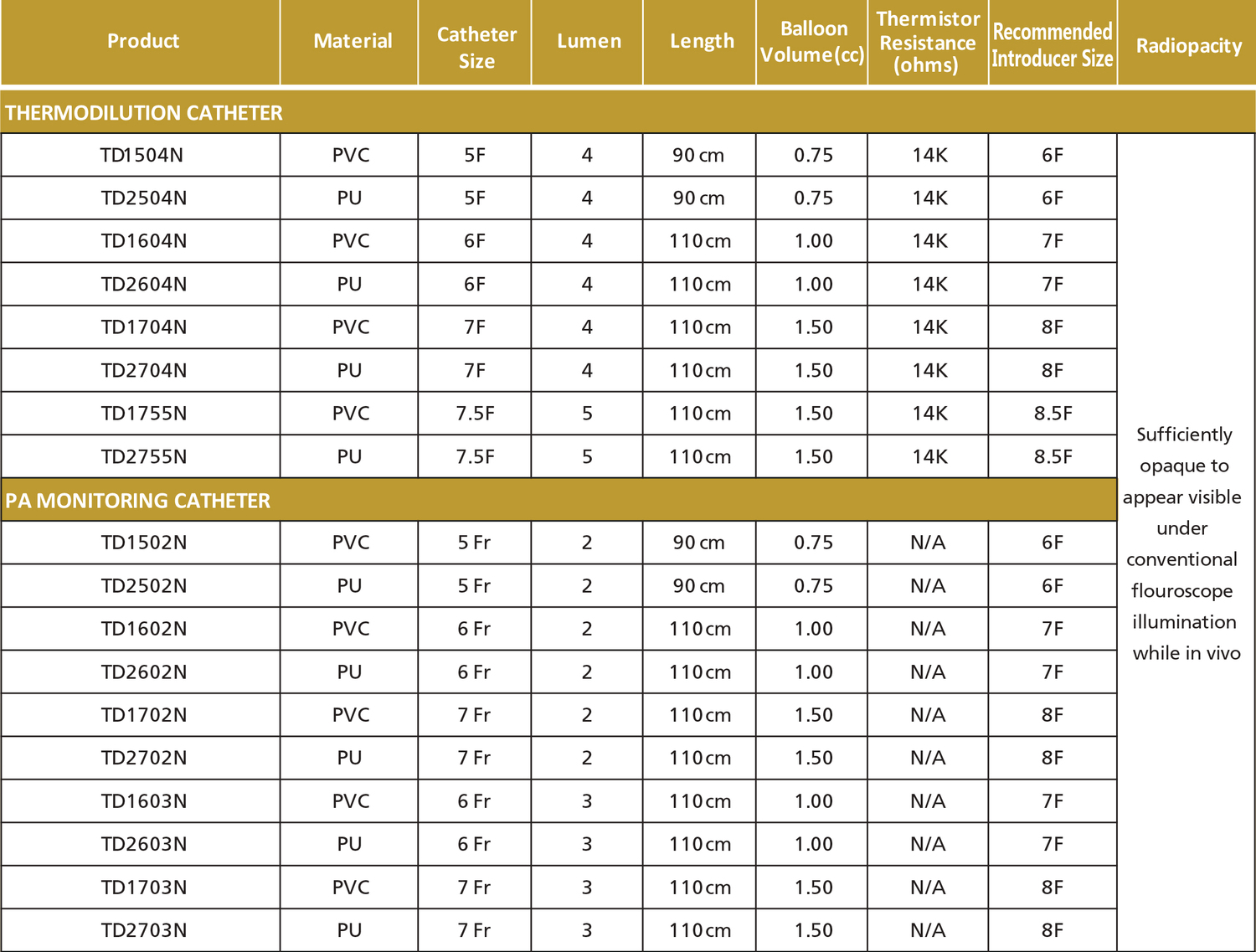 SAFETYWEDGETM covered by U.S. Patent No. 5,007,919 1. Thomas Santora, MD; William Ganz, MD; Julian Gold, MD; Mark Wittman, MD; Beverley Leyerle, RN; H.J.C. Swan, MD, PhD; M. Michael Shabot, MD, "New method for monitoring pulmonary artery catheter location, "Critical Care Medicine". Vol. 19, No. 3, p. 422, 1991. 2. Jean-Francois Hardy, MD; Martin Morissette, MD; Jean Taillefer, MD; Rene Vauclair, MD; "Pathophysiology if Repture of the Pulmonary Artery by Pulmonary Artery Balloon-Tipped Catheters, "Anesthesia & Analgesia". Vol. 62, p. 925, 1983.
About SAFETYWEDGE thermodilution catheter an unprecedented level of safety for ballon inflation
Catheter tips often migrate to small arterial branches that are unable to safely accommodate inflated balloons.
SAFETYWEDGETM thermodilution catheters virtually eliminate the risk of pulmonary artery rupture due to balloon overpressurization - the most serious complication associated with PA catheter monitoring.
SAFETYWEDGETM catheters reduce the risk of this potentially dangerous situation by facilitating inflation of the SAFETYWEDGETM device when either (1) the distal balloon encounters abnormal resistance to inflation, or (2) the pressure inside the distal balloon exceeds the normal inflation pressure.
SAFETYWEDGETM component acts as a pressure relief valve to prevent overpressurization of the distal balloon.
This not only averts vessel rupture but balloon rupture as well, and alerts the clinician to reposition the catheter.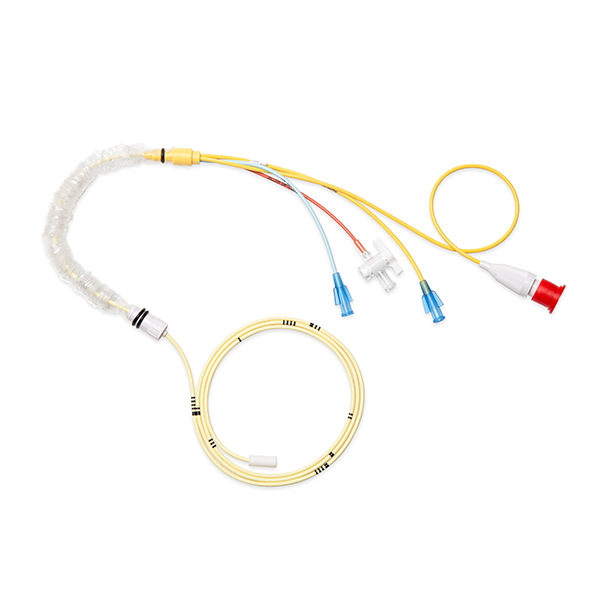 About SAFETYWEDGE thermodilution catheter an unprecedented level of safety for ballon inflation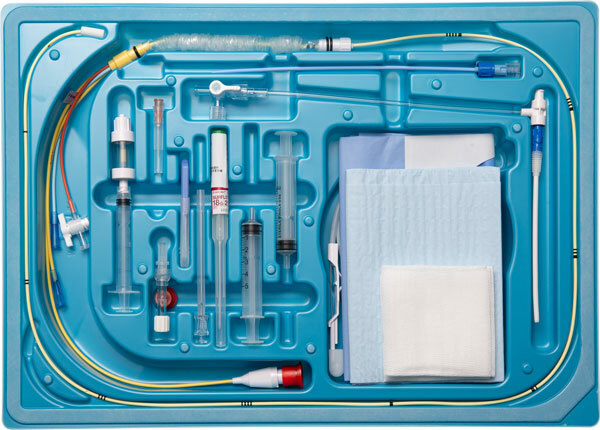 The BioTray contains all the necessary supplies used with the SAFETYWEDGETM thermodilution catheter. Value added benefits:
Elimination of the sheath-catheter size compatible issue

Elimination of nursing cover as the tray can be opened in a sterile area

All components matched by BIOPTIMAL for optimum compatibility
Exclusive Safety balloon acts as pressure relief valve to prevent overpressurization of the balloon.
Provides a protective barrier against contamination of the catheter during catheter insertion and manipulation.
Permits blood sampling, fluid and drug administration and central venous pressure monitoting (7.5 French catheter only).
Compatible with commonly used cardiac output computers, also used to monitor pulmonary artery blood temperature.
Allows mixed venous blood sampling, and measurements of pulmonary artery and pulmonary capillary wedge pressure.
Provides excellent symmetry and tip coverage for the safe flotation of the catheter and for pulmonary capillary wedge pressure measurements.
CVP Proximal or Injectate Lumen
Carries cardiac output injectate solution to right atrium. Accommodates blood sampling, fluid and drug administration and - when attached to a pressure transducer -monitor of right atrium pressure.
One Thermodilution Catheter / PA Monitoring Catheter

SAFETYWEDGETM Balloon Device

Venous Introducer with Dilator

Needle 18G x 2 1/2" OTN Catheter
Drape Minor Proc. Fen 22 x 22"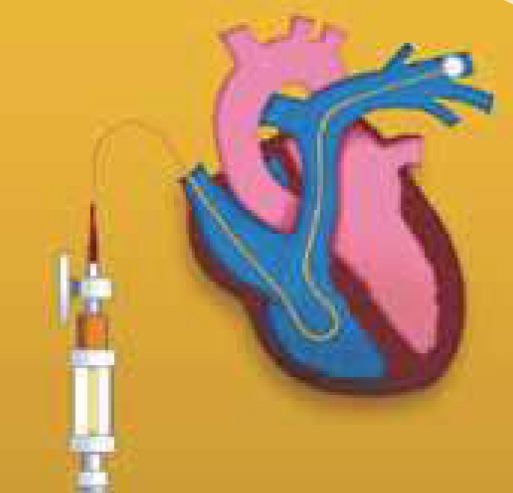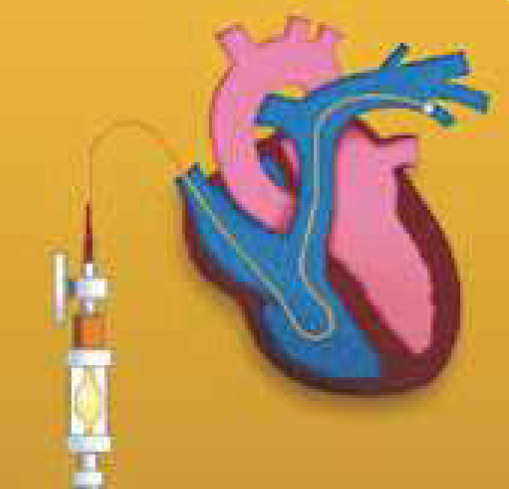 Correct catheter position, with SAFETYWEDGETM device in READY mode.
Catheter tip migration into small PA branch, SAFETYWEDGETM device activated upon attempt to inflate distal balloon.
Polyurethane performs better against thrombosis, eliminating the need for Heparin coating.

Polyurethane is tough, biocompatible, and hemocompatible. Polyurethane also outperforms many other materials in flexibility, tear resistance and abrasion resistance. Polyurethane is stiff when insert the catheter however after it goes into vein and contacts blood it will become soft which can reduce the risk of damage and injury to the vein wall.

The use of Polyurethane in Bioptimal's thermodilution catheters eliminates the problems associated with other materials such as PVC, where the dangers of leachable plasticizers has become a concern.

Polyurethane is radiopaque material which can be detected clearly to ensure correct placement of the catheter.