Biotrans blood pressuretransducer

At work for your environment BIOPTIMAL Innovation service and care for the environment
BIOTRANSTM sensors are designed for years of rugged use in your hospital environment while minimizing biological waste. Standard and custom kits are available to meet your specific monitoring needs. Every BIOPTIMAL product is backed by our comprehensive warranty – plus expert service and support that continue long after your purchase. To discover how we can transform your environment, please contact us at the location shown overleaf.
Environmental Performance
Storage Temperature Operating
Temperature Operating Atmospheric
Pressure Operating Atmospheric
Mechanical Specifications
- 25°C to + 70°C(- 13°F to 158°F)
+ 15°C to + 40°C(59°F to 104°F)
10% to 90% non-condensing
- 400 mmHg to + 4000 mmHg
5 discharges in 5 minutes @ 360J
Transducer Excitation Voltage
Transducer Supply Frequency
Transducer Excitation Impedance
Transducer Signal Impedance
Zero Drift After 5 min Warm-up
Zero Shift due to Temperature
Light** Sensitivity @ 0mmHg
Mechanical Shock Withstands
Meets AAMI /ANSIBP22(1994)Standard
+/- 10 mmHg maximum* 〈 1 mmHg Withstand 3 falls from 1 meter
All kits include a sterile BIOTRANSTM disposable Twist-On Dome with integral 3- or 30cc/hr flush device with Fast Flush and pressure relief functions. The table below identifies additional components included in sterile, packaged single-use Pressure Monitoring Kits by catalog number. All Luers are supplied protected with vented caps. All required non-vented caps are supplied in a separate pouch within each kit package.

*Flush rates indicated are nominal and were obtained with 300mmHg pressure. Fast Flush rates vary with the type of administration set and length and lumen diameter of the monitoring tubing catheter. **Kits supplied with 30cc/hr (yellow banded) flush devices are intended for infant and neonatal applications. Note: Please contract our Bioptimal Sales Representative for custom kits to meet your special requirements.
Reusable BIOTRANSTM Accessories


***Please contact your Bioptimal representative for assistance.
Delivering greater convenience and cost savings in your environment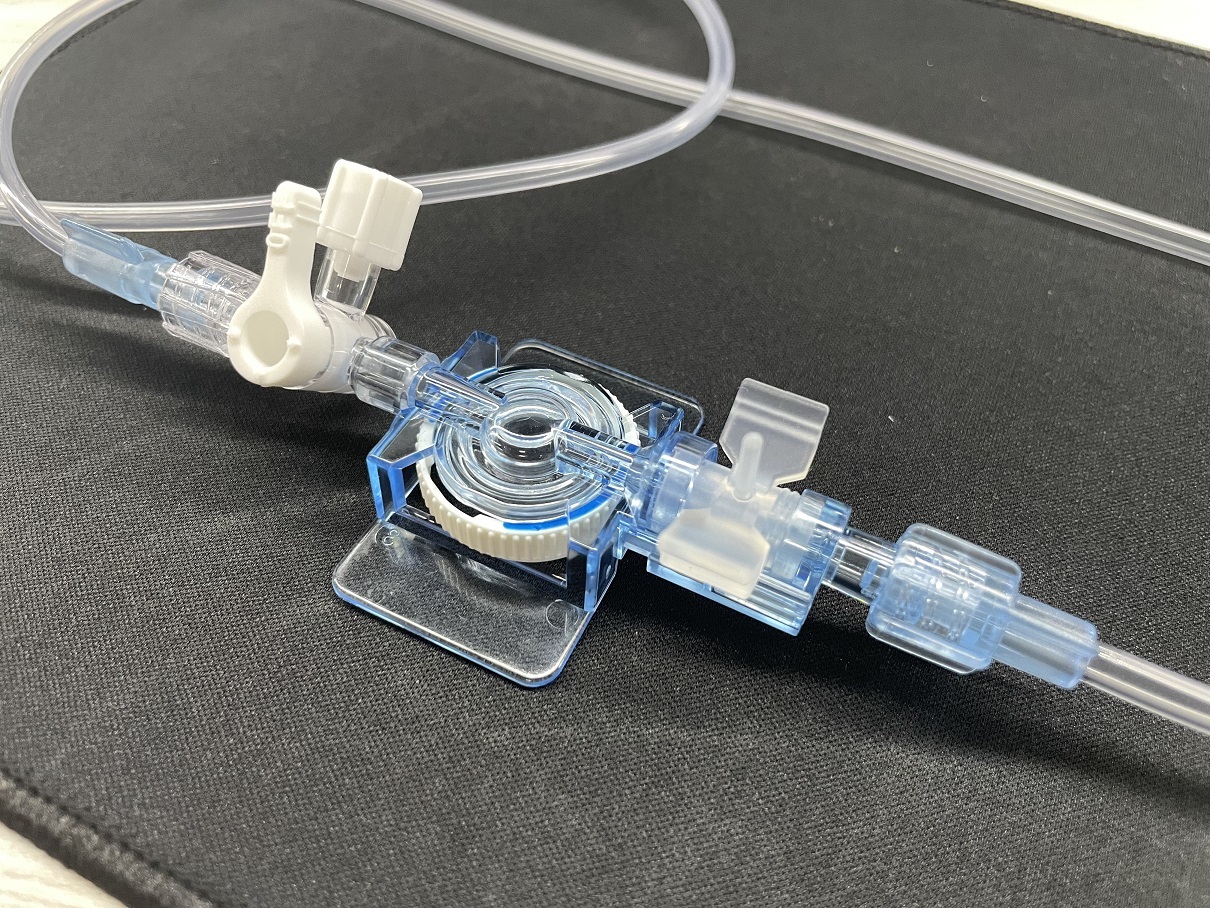 BIOTRANSTM provides superior performance in many hospital environments—including the accounting departments. That's because BIOTRANSTM is the blood pressure transducer that combines the performance, quality and ease-of-use of a fully disposable blood pressure transducer with cost savings of a reusable system. BIOTRANSTM also incorporates a number of intelligent and exclusive features for saving care-givers valuable time. TOUCH CHECKTM, for example, lets you quickly check the operating status of your BIOTRANSTM re-usable, its pressure display after one use, after multiple uses, or at the time of the monitoring procedure. You simply won't find anything like TOUCH CHECKTM on conventional disposable transducers. BIOTRANSTM was also engineered to help save the environment. Unlike fully disposable transducers, BIOTRANSTM disposable pressure monitoring kits contain no heavy metal wastes.
Flexibility is the driving force behind our modular, "twist on" locking-dome design
BIOTRANSTM was designed to work in the most challenging monitoring environments including OR/Anesthesia, ICU, ER, and Cath Lab. For greater versatility, the BIOTRANSTM transducer with its unique twist on dome and reusable sensor can be pole-mounted in single or multiple sets. Alternatively, BIOTRANSTM is a re-usable sensor that is small enough to fit comfortably on a patient's arm. BIOTRANSTM is easily transported from one environment to another, with two conven - tional methods to choose from. First, you can unlock the pressure monitoring dome with its integral sterile isolating membrane. Second, you may choose to move the entire transducer and cable, as it is typically done with a disposable transducer. This flexibility can save substantial nursing time and related set-up costs.